Accessing Create Delivery Page
Deliveries can be created on Rendr Merchant Portal with minimal data entry.
To access the interface, select the Create Delivery Button on the menu.
Delivery Details
Once you have selected the location you will be delivery from, you will be able to select whether you are delivering to a customer or delivering to an existing store within your network.
Information about the receiver is required including First and Last Name, Email and Phone.
Delivery updates are sent to the receiver including Order Place, Booked, Collected and Delivered.
You will also be able to search an automated address book where delivery information will be populated, so you can create deliveries seamlessly.
Product and Parcel Details
While product details are not required, we recommend inputting these values for insurance and reporting purposes. If not entered, we will set place holder values when creating the booking with the assigned driver.
Parcel details including type, quantity, width (cm), height (cm), length (cm) and weight (kg) are required for Rendr to calculate the most appropriate driver and available services.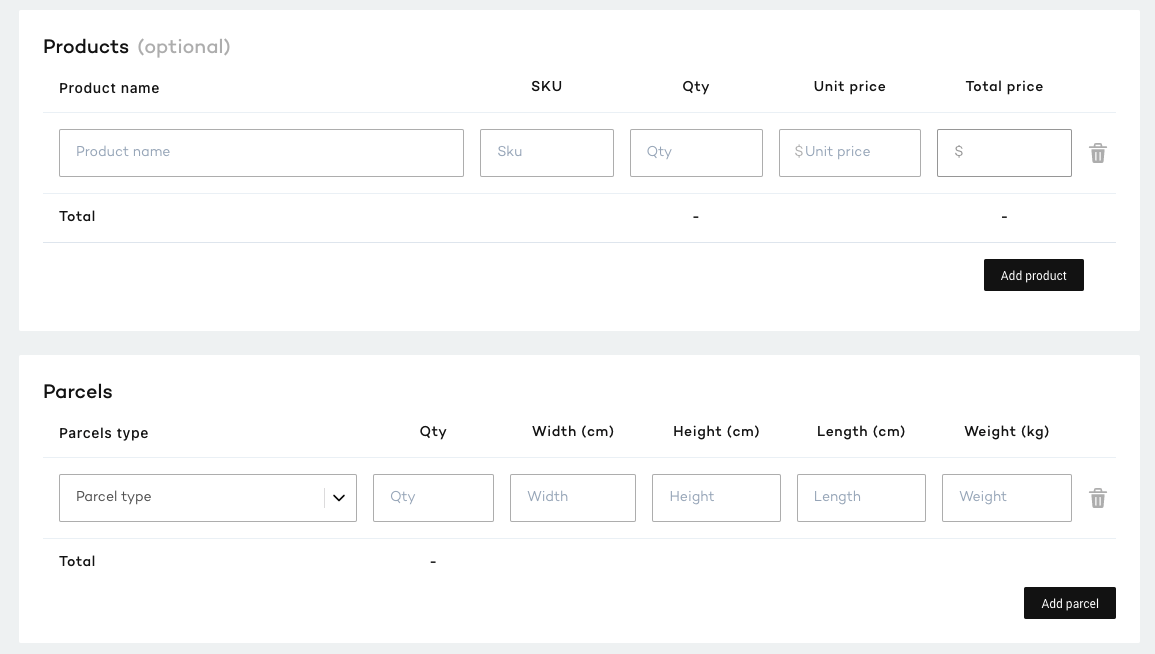 Adding Special Delivery Requirements
Additional delivery requirements can be added to a delivery prior to booking. These requirements include ID Check, Tailgate, Proof of Age, and other instructions.
Collection Details
Once delivery and parcel information has been inputted, you will be able to select the time will be ready for collection. The time selected will be used when notifying drivers what time they can come to collect the order. Delivery time may impact the price and available services displayed.
If you select "My order is ready for pickup now", this will set the collection time to the next available time. When this option is selected, the Book Delivery Now checkbox will be selected*
Delivery Methods
To see available delivery services, including the Delivery Type, Price and Estimated Delivery Time, press the 'Show delivery options' button.
Delivery Types
Rendr Fast (30 minutes - 3 hours)
Rendr Flexible (Same Day)
Rendr Standard (Overnight / Interstate)
Delivery Confirmation - Request vs Book a Delivery
Requesting a delivery will redirect you to the Manage Order's page where confirmation/booking of the delivery is required.
If your order is ready for collection right away, you are able to select the Book delivery now checkbox.
*By booking your delivery now, you agree to have your order ready for collection. Failure to do so may result in additional charges.
You can override authority to leave the delivery by deselecting the Authority to Leave checkbox.
To proceed, you are required to agree to Rendr's Terms & Conditions.
Delivery instructions can be added to the delivery. These instructions will be passed onto the driver and added to the delivery label.